Central High School (Helena-West Helena, AR)

In Memory
Danny Allen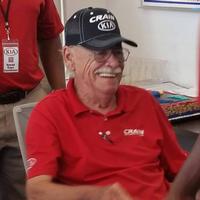 Danny Allen
July 3, 1944 — November 28, 2020
The spirit of Danny Dene Allen, 76, of Sherwood, departed his earthly vessel on November 28, 2020, at North Little Rock Baptist Hospital, to explore the next chapter of his journey. Danny was born in Gulfport, Mississippi and grew up in Helena, Arkansas. He met Jackie, his wife of 57 years, while in the military. He was in sales his entire career.
He was preceded in death by his son, Jeffrey Bryan Allen. He is survived by his wife, Jackie T. Allen; son, Michael Dean Allen; sister, Robin Allen Havrilla and her husband, Eddie of Oklahoma City; brother, Rick Allen of Sherwood; grandchildren, Jordan Allen and Aaron Allen; great-granddaughter, Jenna Allen; several nephews and nieces and a host of friends.
Due to Covid-19, a memorial service will be held at a later date.