Central High School (Helena-West Helena, AR)

In Memory
Travis Cooper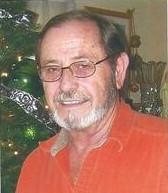 Travis Cooper
March 21, 1944 - February 7, 2021
Travis Council Cooper was born March 21, 1944, at home in West Helena, AR to Ollie and Rosie Cooper. Travis was the 10th of 10 children. He served his country in the Army National Guard, and then lived in the West Helena area until his retirement in 2001 from the Entergy Power Plant after serving as Senior Plant Foreman for their Richie plant located on the Mississippi River.
Travis loved deer hunting and spent many days coming to the Ozarks and hunting on land owned by his nephew, Wayne Hopper, in rural Mammoth Spring. When Travis retired, he made Mammoth Spring his home. He met and soon married, Cheryl, whom we all knew as Sunni Stevens from her radio work. Travis always called her Sunni and often said she was the love of his life. They made their home in rural Mammoth Spring.
Travis and Sunni joined Refuge Apostolic Church of Thayer, MO in 2019 and served faithfully. Travis never let an opportunity pass without sharing his love of Jesus to any and all who would listen … or not. But he wouldn't be deterred. Guiding a new soul to Jesus became his obsession in the last years of his life, especially for his children and grandchildren. It could grow tiresome to hear him "preach" to them. But, you know what? You will now never forget it. That will be your biggest memory of this husband, father, grandfather, brother, and friend. He only wanted the best for each of you, but he wanted you to accept and live for Jesus so he can spend eternity with each of you in Heaven.
Travis was home when he went to Glory, Sunday morning, February 7, 2021, at 10:25 a.m. Sunni had the Sunday morning service online, and she said that just a couple of minutes after Pastor Clay Risner prayed for him, Jesus carried him to Glory.
Travis was preceded in death by his parents and 8 brothers and sisters.
Survivors include his wife, Sunni; his last living sibling, Ray Cooper of Sparks, NV and wife Mary; his son, Dr. Darron Ross Cooper of Bentonville, AR and his wife Stacy and their children, Chase and Maddie; Sunni's children, whom he loved as his own: Adam Mason of Broken Arrow, OK, and his wife Susan and children Eric, Destinee, Ethan, & Henry; Miranda (Mandy) Dahm of Thayer, MO and children Kayla Shelton of Thayer, MO and sons, Silas, Wyatt, & Dawson, Jazmine Guidry of Doniphan, MO and daughter Nevaeh, Shaylynn Guidry and son Elijah of Thayer, MO, and Hailey June Dahm of Cherokee Village, AR; Marshall Milton of Ash Flat, AR and his wife Barbie and children Emily Martin & husband Alex of Highland, AR, Zachary Bagwell & Malakai Milton of the home; Charlea Collins of Jonesboro, AR and children Chance, Austin & Molly June. Family-in-love includes John Dahm and his sons Jason, Jonathan, & Free of Cherokee Village, Aaron Kious & son Stanley of Jonesboro, and Baylee & Bryson Simmons of Ash Flat; many nieces, nephews, and friends scattered over the country.
Celebration of Life services will be at 10 a.m. Friday, February 26 at Refuge Apostolic Church, Third & Market St., Thayer, MO.