Central High School (Helena-West Helena, AR)

In Memory
Leon Early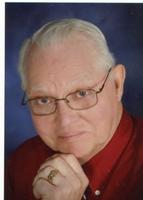 Leon Early
January 1, 1942 - May 14, 2013
Leon Early, 71, of West Helena, Arkansas passed away Tuesday, May 14, 2013, in Memphis, Tennessee. Mr. Early was born January 1, 1942, at West Helena to the late Sidney Coleman and Elvie Chamness Early. He was a member of St. Mary's Catholic Church, Knights of Columbus, and was a retired school teacher of twenty years.

Mr. Early is survived by his wife, Jackie Early of West Helena; son, Lee Early (Jennifer) of Conway, Arkansas; daughter, Tracie Karkur (Ralph) of Stuttgart, Arkansas; three grandchildren, Joseph Early, Elizabeth Early and Christina Early; two sisters, Dora Clark of Peoria, Illinois and Linda Honeycutt (Lavon) of Pangburn, Arkansas; one brother, Norman Early (Sandra) of Summerville, Georgia; and one sister-in-law, Gwen Early of Hot Springs Village, Arkansas.

He was preceded in death by his parents; two brothers, James and Sidney Early; and a sister-in-law, Tolese Early.

Funeral mass for Leon Early will be held at 10 a.m. Friday, May 17, 2013, at St. Mary's Catholic Church in Helena, Arkansas with burial following at St. Mary's Cemetery. Father Benoit Mukamba, CSSp, Father Honest Munishi, CSSp, and Father Martin Vu, CSSp will officiate. Rosary will be held at 5:30 p.m. Thursday, May 16, 2013, at Roller-Citizens Funeral Home with visitation following from 6-8 p.m.

Pallbearers are Kenneth Early, Ivory Gilmore, Dave Vaughn, Rodney Early, Wayne Cook, and Chris Honeycutt.

Honorary pallbearers are Jay Hollowell, Terry Leslie, Brian Stoner, Mike Schubach, Michael Schwantz, Dr. Harry Michel, and members of the Knights of Columbus.

Services will be directed by Roller-Citizens Funeral Home, West Helena (870) 572-2571.