Central High School (Helena-West Helena, AR)

In Memory
Wilma Loyd (Mansfield)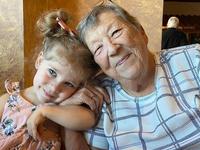 Wilma Loyd Mansfield
October 5, 1944 - September 15, 2022
Wilma Loyd Mansfield passed away peacefully at Forrest General Hospital in Hattiesburg, Mississippi, on Thursday, September 15th, 2022 due to complications following surgery. Wilma was born in Helena, Arkansas on October 5th, 1944 to William Barton Loyd and Mavis Ozell Loyd. She was the youngest of three and adored her older brother WB and big sister Shirley. Wilma married William "Bill" Mansfield of Rome, Mississippi and together settled in West Helena, Arkansas where they raised their two sons, Bill Jr. and Jeff.
Wilma was the most extroverted person you'd ever meet. No one who crossed her path remained a stranger, and many went on to think of her as one of their closest friends. Active in the Jaycees, as well as West Helena Baptist Church, and Helena Little Theater, Wilma had many opportunities to practice her love of people. Planning community activities, singing in the choir, or playing a nun onstage in The Sound of Music, she was most comfortable when she was surrounded by friends and family. Wilma was an active "baseball mom" and could be found behind the plate working the scoreboard and charting the scores by hand.
Around the time that most people begin to consider slowing down, Wilma caught a second wind and launched into new and exciting ventures. After retiring from many years of faithful service with Entergy, she began a new position with American Payment Systems, which took her all over the country; another opportunity to grow her circle of friends.
Well into her 60s, she flew and crewed in hot air balloons, set up fireworks shows for NASCAR and many other events in Southern California, as well as snorkeled in the Caribbean with her best friend, Linda Bush, who she faithfully witnessed to and eventually led to the Lord after years of prayer and conversations. Those closest to Wilma may have even received one of her woodworking keepsakes, a later-in-life hobby that gave her lots of joy as she designed plaques, boxes, and nameplates for those she loved.
Wilma's primary mode of service to the Church was in media ministry. Whether in Hot Springs at First Baptist Church, or in Hattiesburg at Temple Baptist, Wilma was most excited to be a part of making Sunday services run smoothly in order to help those in attendance be able to focus on and worship Jesus. From running sound or video cameras to switching slides for song lyrics or working the lights, Wilma was always willing to serve where needed. Her Temple pastor said he carried her personal portable fan to the very hot 4th of July celebration so she could try to remain cool while still participating in the media production!
Wilma's heartbeat, and the reason she finally left Arkansas to move to South Mississippi, were her grandchildren and great-grandchildren. Her Facebook posts were practically an ode to their existence. Her friends from all over the United States looked forward to updates about her growing legacy and rejoiced beside her at every milestone they reached. With every song sung, degree earned, picture taken, and homeschool lesson learned, she was quick to share their achievements. Being their Mimi was her favorite part of life.
Wilma was preceded in death by her parents, William and Mavis, her brother WB, and her sister Shirley. She is survived by her sons, Bill Jr. of Fayetteville, Arkansas, Jeff (Melanie) of Hattiesburg, Mississippi, her five grandchildren, Parker (Olivia) of Jackson, Mississippi; Peyton (Kalyn) of Myrtle, Mississippi; Mabry, Fin, and Lottie of Hattiesburg, Mississippi, and her three great-grandchildren, Meirah, Mabel, and Judah of Jackson, Mississippi.
In lieu of flowers, Wilma would love to see the furtherance of the Gospel. It would mean the world to her if friends and family would make a donation to her oldest grandson's seminary tuition in her name. She was incredibly proud of his choice to go into the pastorate and would love to see her community of people rally to support his education as he pursues the goal of sharing the love of Christ wherever the Lord leads. Donations can be sent to:
Parker Mansfield
c/o Reformed Theological Seminary
5422 Clinton BlvdJackson, MS 39209
or via Venmo: @p_mansfield
Please, include a note telling him how you knew his Mimi and a memory you share of her!
A service celebrating her life will be held at 1:00 pm on Saturday, September 24th at First Baptist Church of Hot Springs, Arkansas.