Central High School (Helena-West Helena, AR)

In Memory
Dawn Mauldin (Robbins)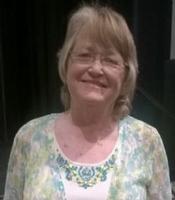 Debra Dawn Robbins
March 17, 1944 - July 8, 2021
Debra Dawn Robbins was born March 17, 1944, in Helena, AR. She passed away July 8, 2021, at home surrounded by her family.

She married the love of her life, Augustus (Gus) Robbins, III, on November 22, 1962. They spent the next 58 years dedicated to each other and their family.

In her early years, she followed her love of dance and opened several studios in Eastern Arkansas, teaching many children in the area. She later earned her RN degree from Phillips Community College. She worked in many capacities during her thirty years as an RN but found her passion working as a psychiatric nurse/therapist at Mid-South Health Systems for the last fifteen years of her career.

To know her was to love her. She was always ready with a listening ear and wouldn't hesitate to help anyone in need. She loved hosting and cooking for family get-togethers, drinking her beloved Diet Cokes, and playing her favorite casino game, Keno, with Gus.

She was preceded in death by her Mother and Father, Deborah and Earshel Mauldin, husband, Augustus (Gus) Robbins III, daughter, Memory Harden, siblings, Dinan Mauldin, Dia Savell, Drucilla Nolan, Draton Mauldin, Derward Mauldin, and Russ Mauldin.

She is survived by two sons, Robbie Robbins (Tracy) of Marion, AR, Mark Robbins of Helena, AR, a daughter Mia Robbins (Craig) of West Helena, AR and six grandchildren, Lindsey Aycock (Shawn), Stone Robbins, Hannah Harden, Alex Robbins (Kelsey), Kristen Robbins, and Slade Harden.

A memorial service for Debra Dawn Robbins will be held at 2:00 p.m., Saturday, July 31, 2021, at Roller-Citizens Funeral Home in West Helena, Arkansas.

Funeral services will be provided by Roller-Citizens Funeral Home in West Helena, (870) 572-2571. Relatives and friends may sign the online guestbook at www.rollerfuneralhomes.com/westhelena.