Central High School (Helena-West Helena, AR)

In Memory
Ed Titus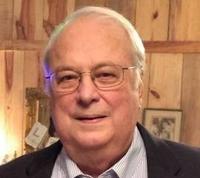 William "Ed" Edward Titus
January 9, 1944 – March 31, 2022
Sadly, Lt Col William Edward "Ed" Titus passed away peacefully on
March 31, 2022, at the age of 78. He was born in Helena, AR, on
January 9, 1944, to Ellice Trice Titus and William E. Titus, Sr. Leaving behind to cherish many wonderful memories is the love of his life, Marcia, his wife and loving companion of 41 years; son Stephen Titus and wife Angela of Bryant, son Mark Titus of Little Rock, and stepson Craig Harrison of Las Vegas, NV. Greatly missing their "Pop" are his grandchildren Sarah, Hogan, Josiah, and Zoe Titus, and the light of his life, guardian, protector, sidekick, and biggest fan -- his cockapoo, Misty -- is now devastated without her Daddy. In addition, he is survived by his loving brothers, Tommy Titus of Crystal Springs, MS, and Dick Titus of Eureka Springs, AR, several nieces and nephews, and lifelong friends Carole Lovell of Little Rock, Joe Eason of Conway, and David Beith of Oceanside, CA.
Ed attended the University of Arkansas in Fayetteville, graduating in Industrial Management, and because he participated in ROTC for 4 years, he was commissioned as a 2nd Lieutenant in the US Air Force upon graduation. He was sent to several stateside locations and also spent a year at Osan Air Force Base in Korea before returning to Little Rock Air Force Base in Jacksonville as a Captain. After several years in the Air Force, he resigned and joined the Air National Guard, where he was promoted to Lt Colonel and became commander of the Hot Springs Combat Communications Squadron. During this time, he also worked for a short time at Timex, got his Master's degree in Business Management, and then became manager of Industrial Engineering for Arkansas Power and Light, until it became Entergy.
After a short stint in PA, and retiring from the Air Force after 28 years, Ed and Marcia moved to the coast of North Carolina and Ed became a consultant to the power industry. He traveled to clients all over the US and Canada. He loved working with the different companies, and because he was such a people person, he became friends with most of the people at each location. Most of all, he loved the North Carolina lifestyle -- living near the beach and boating on the Intracoastal Waterway and eating tons of seafood!! He also loved traveling and staying at the log cabin home up in Gatlinburg, TN with the kids and grandkids! He decided that if we were going to see the grandkids grow up and be a part of their lives, we needed to move back to Arkansas, so during a giant snowstorm over Christmas of 2012, the moving van arrived in Little Rock with Ed and Marcia following behind, and then eventually re-settling in Hot Springs. Ed loved life in Hot Springs, with his friends Stan and two Ricks and the Liars Club, and he claimed that he was the happiest he had ever been!
Marcia and Steve and Angie would like to thank all of the nurses at the CVICU at Baptist Hospital in Little Rock for their compassionate care and dedication during Ed's extended stay there. They were absolutely wonderful during that time, and seemed to love what they were doing! Even in the most difficult situations, they were always cheerful, as well as very professional, and treated The Colonel, as they called Ed, with the utmost respect (and lots of teasing). Ed actually enjoyed his stay in the CVICU, as much as was humanly possible!!
There will not be a service at this time, but a Celebration of Life later on. Please consider making a donation in Ed's name to St Jude Children's Research Hospital in Memphis, TN, or to your local animal shelter. Cremation arrangements are being handled by Pinecrest Funeral Home in Alexander, AR.
Fond memories and expressions of sympathy may be shared at www.pinecrestfh.com for the Titus
family.